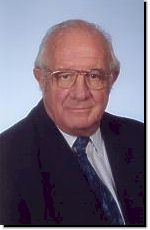 The declared purpose of Hilmar von Campe is to defeat the power of the lie and make truth the basis of all human relationships. All conflicts in the world of whatever nature, he maintains, can be traced back to lies. Liars make hunger, environment, peace, and so on, as important as they are in itself, the principal issues for humanity. They are not! Victory in all those endeavors can only be achieved as fruits of truth. Liars cannot solve problems; they only postpone the day of reckoning. The real battle line is between truth and lies, and not between nations, rich and poor, Christian and Moslem, black and white, or Arab and Jew. There is no neutrality in this battle. Everybody is on one side or the other. People committed and obedient to the absolute truth of God will solve every last problem in the world and free humanity from the stranglehold of lies.
Materialist ideologies like Marxism/Socialism including National Socialism and fanatic Islam are outdated and dangerous because they build on lies and blame somebody else for the ills of society and the state of the world. The ideology of truth begins with self. Stop lying now and stand up for truth. Everybody can and must embark on this road. That leads to a change of motives, to a remaking and change of men and women. That people can and must change is at the heart of Hilmar von Campe's philosophy. Out of control human nature leads to government control and into a totalitarian system. The United Nations is heading for that direction and wants us in their boat. They must not succeed.
Hilmar von Campe promotes his message through every possible channel available to him. He has given lectures to audiences of different backgrounds and in many different places such as universities, high schools, church congregations, conventions, associations, business gatherings, and on other occasion across the United States, in Europe and Latin America. He also gives seminars on the war of ideas in the ideological age.
To date, Hilmar von Campe has been interviewed by 300 radio and television stations, such as the American Freedom Network, the Glenn Beck program, Hannity and Colmes, video interview by Holocaust Documentation and Education Center, American Family Network, Dr. James Dobson's International Program, World Wide Christian Radio, World Net Christian Radio, The Chuck Baker show KKCS and KVOR radios, Cornerstone Television, Rocky Mountain Television, and many others. Download the audio interview with KPOF910 in Denver, Colorado discussing Hilmar's book, Moral Meltdown, The Core of Globalism. Read the introduction here.
Hilmar von Campe's speaking presentations, published books, monthly articles, education and life story prove why he was listed in the 1992 "International Who's Who of Intellectuals."
See Personal History and Global Ideology for more detailed information.






Home ¦ Nat'l Institute ¦ Keynote Addresses ¦ Monthly Articles ¦ Hilmar's Books
Holocaust Statement ¦ What's New ¦ Personal History ¦ Family Biography
Dignitaries ¦ Audio Interview ¦ Reviews
Testimonial Letters ¦ Links ¦ Contact Us ¦ Site Map