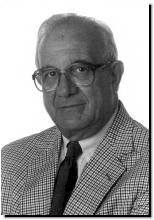 "I had thought that as a soldier I was fighting for my country, but I came to realize that in reality I was fighting for the immoral purposes of a bunch of gangsters." His perspectives on those years, the lessons he learned, his comparison of Nazi philosophy and program with what happens in America today, are all unique. And so is his analysis of the substance of National Socialism, Communism and Capitalism. He defines the failure of Democracy to deal with the challenges of either and points out what must happen in America and Western society for them to preserve freedom and prosperity, as well as expand it across the globe.
Hilmar von Campe was listed in the 1992 "International Who's Who of Intellectuals." He is the author of four books, and WW2 veteran in the German Army as well as a former prisoner of war in Yugoslavia who staged a daring escape in 1945, crossing seven borders to freedom. He lived through the years of Nazi power and brain-washing in Germany as a child and then as a soldier. After the war, he learned about the Holocaust and the Nazi atrocities and had to come to grips with the reasons how something like that could happen. He also had to deal with his own moral responsibility for them. The destruction of Germany, the loss of his father in a Soviet concentration camp and of his elder brother who fell in Russia, and the expulsion from their home in Eastern Europe, had a profound impact on his life.
As a graduate of the University of Hamburg, he has traveled the world investigating political and social conditions of the countries he visited. He lived in most parts of the Latin American subcontinent with outstanding experiences through living in the homes of people of all various backgrounds. As a result, he had the opportunity to work with, and change the thinking of Communist laborers and student leaders. Together with friends, he was even kidnapped by the Communist leaders of the Bolivian Mineworkers Union. He then worked as an investment banker out of Lima, Peru, Jamaica and the Dominican Republic. Von Campe also managed a consulting firm on foreign investment and was managing director of an automotive parts factory in Mexico. As a member of the American-Mexican Chamber of Commerce he was, in the eighties, chairman of its subcommittee on foreign investments. His command of languages has helped him to experience firsthand social and economic situations worldwide.
Hilmar von Campe addresses the moral crisis in America and in the world. The attempt to eliminate the presence of God and His Commandments in education and in political and social affairs remind him of similar actions by the Nazis, actions he experienced. Godlessness, he says, is the principal cause for the crisis of humanity. Examples: The perjury & lying by William Jefferson Clinton that lead to his impeachment; the abandonment by some European leaders of the fundamentals of Western civilization and turning their back on America; naked selfishness where ever you go; the 50 - 100 wars that rage at all times around the world; the carnage at Columbine High School in Littleton, Colorado; and the terrorist threat.

In Hilmar von Campe's Own Words
There is no satisfying purpose in the hearts of people around the world, while at the same time there is an accelerated process of substituting God's moral absolutes with changeable relative moral concepts. The indifference to what is wrong by a great part of the American people prevents America from giving moral leadership to the world. America has a heritage of moral and spiritual strength expressed by the pilgrims, settlers and the Founding Fathers, and in addition a national mission of freedom. That makes this nation unique. Turning her back on this heritage, which led to internal divisions, and above all because of the lack of an all-embracing ideological offensive concept America is living far below her national calling and destiny. Without such a purpose, American society will continue to disintegrate, and wide spread moral perversion will automatically lead to totalitarian rule. It is not less guns and more rules which is needed to clear out the mess, as the socialists propose, but an idea that fills the moral and spiritual vacuum in young and old people and politicians alike, an idea that enlists them in a task greater than themselves. America needs a God-inspired ideology which gives her the decisive edge over the bankrupt intellectual and moral concepts of the Marxist left and leads her to moral resurrection, to a complete change of society. Only on that road can America fulfill her destiny and be truly a nation under God. Only then can America give moral leadership to the world and make truth the basis of all human relationships..
If you have any questions, comments or you would like to send Hilmar an e-mail, he can be reached at: Hilmar@voncampe.com

Home ¦ Nat'l Institute ¦ Keynote Addresses ¦ Monthly Articles ¦ Hilmar's Books
Holocaust Statement ¦ What's New ¦ Personal History ¦ Family Biography
Dignitaries ¦ Audio Interview ¦ Reviews
Testimonial Letters ¦ Links ¦ Contact Us ¦ Site Map