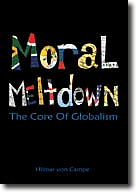 Moral Meltdown: The Core Of Globalism
Moral Meltdown uncovers the truth about the assault on free society. It explains the close connection between personal life-style, and national and international politics. It reveals what international Socialism has done to society and what we have to expect in the future. It not only makes clear why freedom is gradually being eroded, but it gives an answer to the question of what to do about it.
If you wondered whether or not Communism is really dead; if you want to know what Adolf Hitler's minister of propaganda, Joseph Goebbels, the KGB's misinformation department, and Peter Jennings have in common; if you want to witness how the ACLU is actively perpetuating Nazi and Communist philosophies; if you want to learn whether it's Pinochet or Allende who led Chile to greater freedom, prosperity and democracy; if you are interested in the reality of Mexico; if you think that Mandela is a democrat; if you want to know what the greatest weakness in American foreign policy is right from the mouth of Andrei Gromyko; and above all, if the future of your country and the world and the well-being of its future generations mean enough to you to discover these truths, then you must read Hilmar von Campe's Moral Meltdown.
Moral Meltdown Book Review
by J. Janus

If You Don't Stand For Something You Will Fall For Anything!
The author Hilmar von Campe has written and extraordinary book during this age of globalization. He claims to have such insight by witnessing the changes he grew up with in Germany under Hitler's regime. He also noted that Stalin freely used Hitler to weaken the West so Communism could reign in the end and that very plan is still in existence.
He has a very simple message, freedom is based on truth and when the truth is weaken or obscure then it will end up the victim of baffle by Apostles of Confusion and few freedoms for anyone. The writer said he came to this revelation when he had to confront his own nation's atrocities of discrimination and hate after the war. He gained great strength by learning and expressing the truth in all that he endeavors in his life. Especially being a victim as a POW after the war watching his friends die in vain.
The essayist's belief that freedom is a moral force that must confront and fight evil is everyone's responsibility and he cites seeing how many bystanders of the Holocaust were just as guilty as the perpetrators of it. He can see the same threat as moderate believers of Islam remain silent as extremists use the Koran to kill, maim and discriminate against the innocent.
The author feels America is the nation he fears the most because if America loses his way the world will be lost too. He sees the coming Globalization as threat if socialists and communists beliefs and forces are embraced and integrated into our world since they are not based on truthful philosophies.
He makes a very good argument that every Communist and Socialist nation ends up in totalitarian dictatorships eventually. The belief that everyone must walk the same path so all can share is simply ends in the slavery of untruths. The world has been enlighten by those who lead by following their own conscience and fundamental honesty of respecting everyone's individual right to be free. Consequently, every person must seek and practice the truth to follow their moral compass of compassion as they choose not as dictated by others.
Aristotle once argued that the fundamental values of individual choice could lift an entire nation or group to prosperity as opposed to his teacher Plato who justified that sometimes the ends do justify the means. There can be no question that socialism and communism are abysmal failures for any society. Yet, globalization embracing such policies will do exactly that if it is permitted to flourish using such a false premise.
I found this book a compelling indictment and words of warning that the world should walk carefully and thoughtfully to the ends of globalization. In the end, if our leadership is vacant of moral truths, then like anyone, our leaders will fall victim to anything if they do not stand for something.
A GRIPING STORY OF A FORMER WERMACHT SOLDIER.
MR. VON CAMPE HAS THE BACKGROUND TO TELL US (U.S. CITIZENS) THAT WHICH WE MAY NOT WISH TO HEAR. THE TRUTH OF CHRIST IS IN THIS REMARKABLE PERSONAL HISTORY.
From the Table of Contents:
Objectives

Lies

Money

The Not-So-Dead Communism

The Struggle For Chile

The Chinese Illusion

Communists take over South Africa

The New World Order Hoax

The Democratic-Bureaucratic Establishment

Western Society

On the Road to Peace?

The Ultimate Purpose of History

Read the Introduction to Moral Meltdown: The Core Of Globalism.

Home ¦ Nat'l Institute ¦ Keynote Addresses ¦ Monthly Articles ¦ Hilmar's Books
Holocaust Statement ¦ What's New ¦ Personal History ¦ Family Biography
Global Ideology ¦ Dignitaries ¦ Audio Interview ¦ Reviews
Testimonial Letters ¦ Links ¦ Contact Us ¦ Site Map