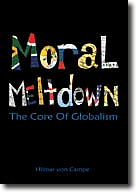 Moral Meltdown: The Core Of Globalism
Moral Meltdown uncovers the truth about the assault on free society. It explains the close connection between personal life-style, and national and international politics. It reveals what international Socialism has done to society and what we have to expect in the future. It not only makes clear why freedom is gradually being eroded, but it gives an answer to the question of what to do about it.
If you wondered whether or not Communism is really dead; if you want to know what Adolf Hitler's minister of propaganda, Joseph Goebbels, the KGB's misinformation department, and Peter Jennings have in common; if you want to witness how the ACLU is actively perpetuating Nazi and Communist philosophies; if you want to learn whether it's Pinochet or Allende who led Chile to greater freedom, prosperity and democracy; if you are interested in the reality of Mexico; if you think that Mandela is a democrat; if you want to know what the greatest weakness in American foreign policy is right from the mouth of Andrei Gromyko; and above all, if the future of your country and the world and the well-being of its future generations mean enough to you to discover these truths, then you must read Hilmar von Campe's Moral Meltdown.
From the Table of Contents:
Objectives

Lies

Money

The Not-So-Dead Communism

The Struggle For Chile

The Chinese Illusion

Communists take over South Africa

The New World Order Hoax

The Democratic-Bureaucratic Establishment

Western Society

On the Road to Peace?

The Ultimate Purpose of History

Read the Introduction to Moral Meltdown: The Core Of Globalism.

Willkommen ¦ Artikel ¦ Bücher ¦ Finanzen ¦ Kontakt ¦ Site Map
Web Development and Custom Graphics by: Arkansas Valley Web Works